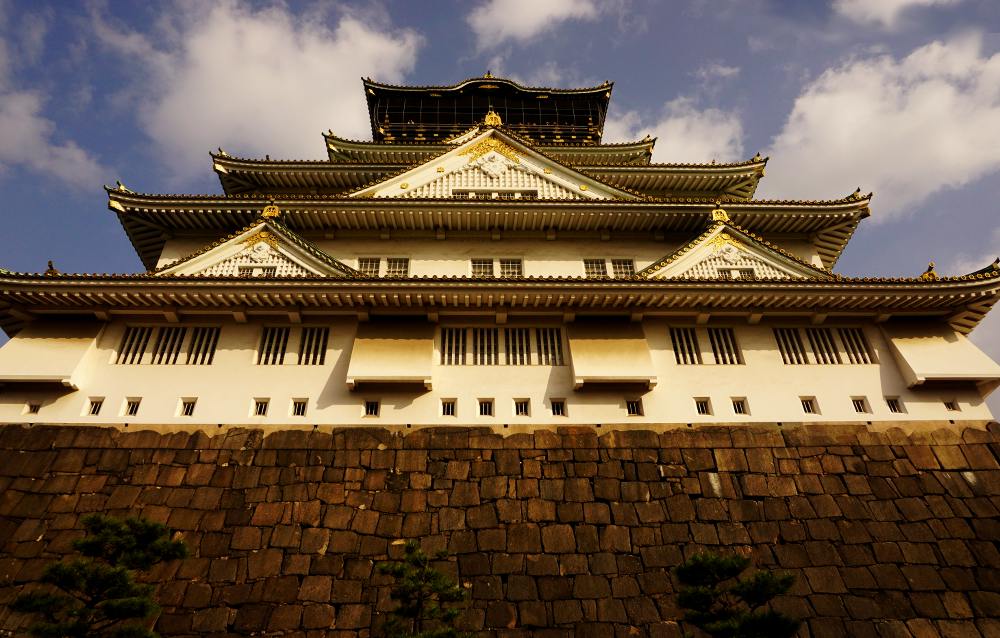 Are you heading to Japan soon? Maybe you picked up some cheap flights to Tokyo? Yay! Get ready to eat all the yummy food, see amazing temples and lose yourself in exciting cities. But before you jump on the plane, there's a few other things you should get ready to ensure a fantastic trip to the Land of the Rising Sun. We've written up things that should be done BEFORE getting on the plane. We've even created a checklist, so scroll down for more info!
Order a Japan Rail Pass
A Rail Pass is a necessity in Japan, as rail is the best way to get around. The Japan Rail Pass saves a lot of money on rail travel and can even be used on the shinkansen (bullet train). The only catch is, you have to purchase it outside Japan and be a temporary visitor. You will need to provide your passport details, travel dates and select how many days of rail travel you would use (7, 14 or 21 days). I would order it 1-2 weeks prior to departure to ensure it is delivered to you on time. Upon arriving in Japan, you validate the pass at the various venues. For more details: http://www.japanrailpass.net/en/index.html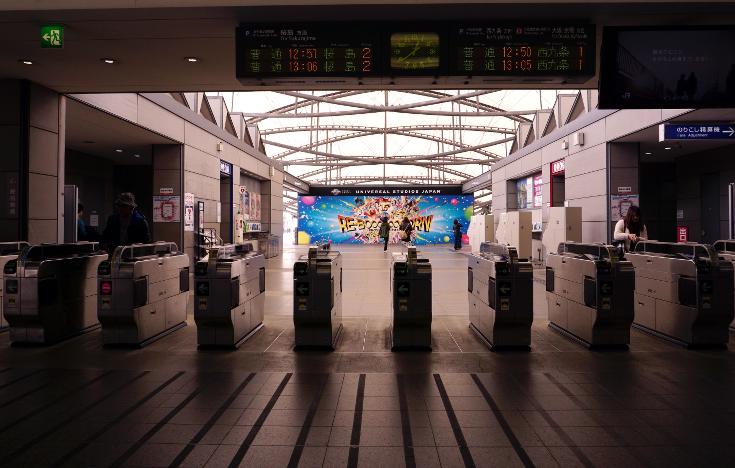 Check out discounted fares from ANA and JAL
JAL and ANA offer cheap, flat-rate flights between domestic cities in Japan for people residing outside of Japan and who hold an international return flight (similar to the JR Rail Pass). ANA's Experience Japan fare and JAL's Explorer Pass are cheaper than the same fares offered through other booking systems. We saved 40% on our domestic flights by booking these.
Feeling pinspired? Hover and click on the images to save them to your Pinterest boards!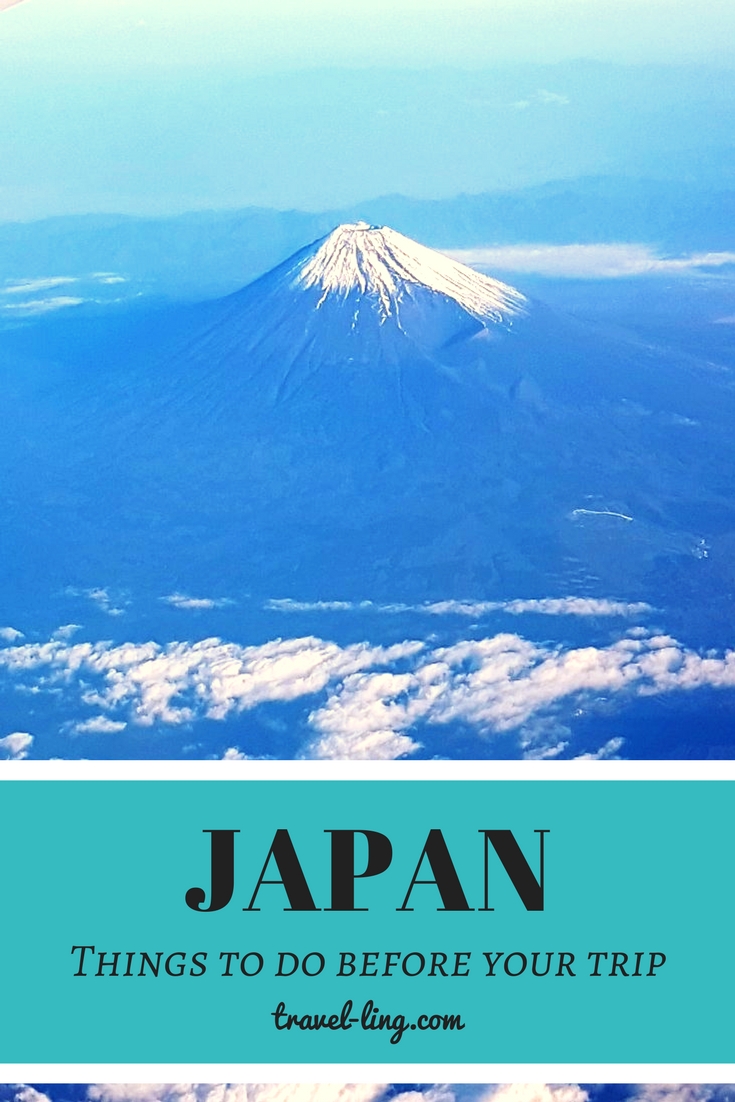 Travel Insurance
We never travel without it, and neither should you. Medical treatment in Japan is not cheap, and the right cover of travel insurance can cover you for emergency evacuations, disasters, stolen luggage, and more. Knowing that you are covered while you are travelling far outweighs the cost of insurance.
Like checklists? Pin and print our checklist below!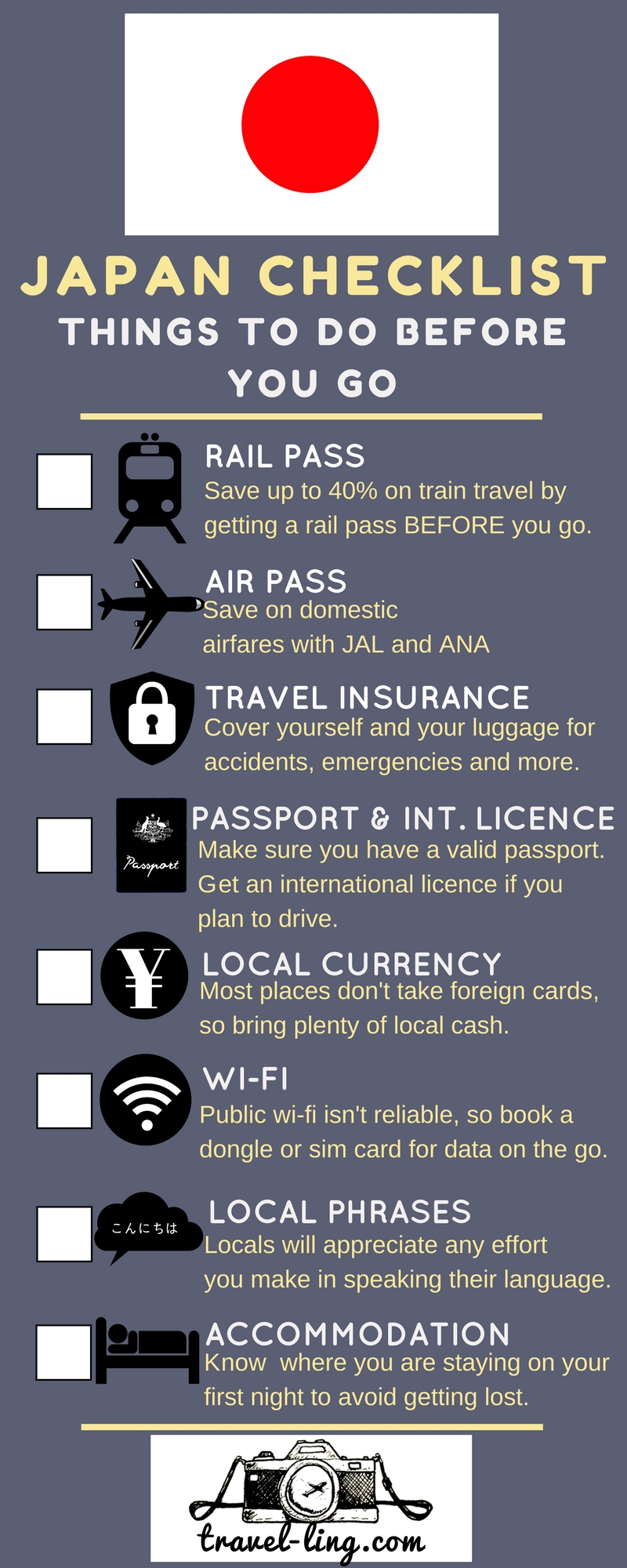 Passports & Visas
It might sound silly for the seasoned travellers, but for those who are travelling for the first time, make sure you check if you need a visa to enter Japan (based on your country of residence). You also need 6 months of validity on your passport BEYOND your travel return date (so if you are travelling in June, your passport needs to be valid at least until December). I've been told this is to cover you in case an emergency occurs, and you are stuck overseas for longer than expected.
International Driver's Licence
The idea of driving in somewhere like Tokyo makes me anxious, however driving in the quieter parts of Japan would be lovely. If you are visiting more remote areas, or the islands, driving is the best way to get around, so you will need an International Driver's Licence to hire a car. For our Australian readers, you can get them from NRMA.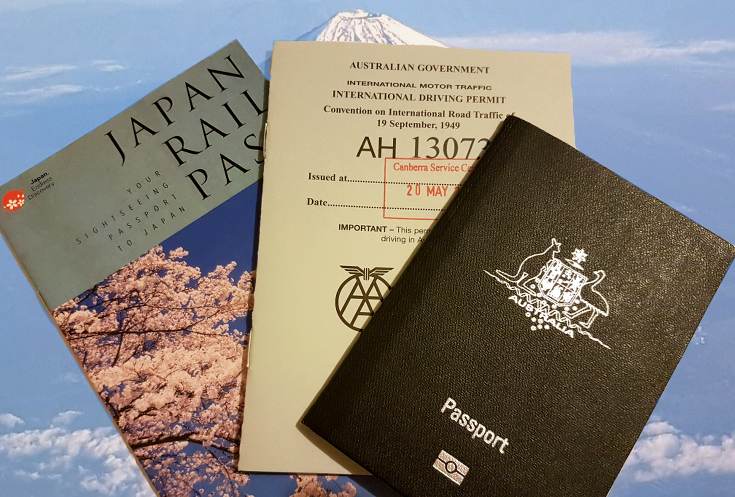 Get Cashed Up
Despite Japan being ahead in the technology stakes, cash is still the preferred method of payment. A lot of shops and restaurants do not accept international cards and even those that accept cards may not work when you try to use it in the machine. Change as much money as you can to Japanese Yen before you go, or get an international travel card that you can top up in local currency (however, note that a lot of ATMs don't accept foreign cards). If you are worried about walking around with a load of cash on you though, rest assured general crime and pick pockets are not a huge concern here.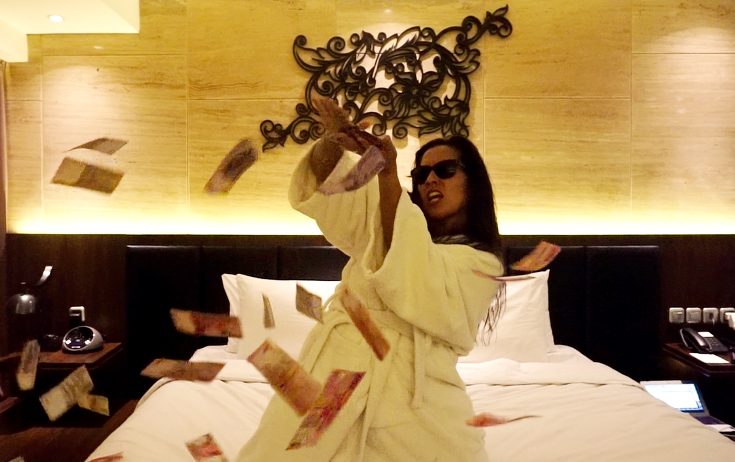 Wi-Fi
Again, it may come as a surprise, but for the metropolis, high-speed futuristic country Japan may seem, wi-fi is a bit of a hit and miss. There is free wi-fi available in many cities, but the signal is not always that reliable. It might not seem like that big of an issue at first (I mean, we can always post to Instagram later, right?), but when you are lost and trying to find your way around a city that doesn't have clear street signs or a metro system that only an engineer might be able to read, you'll be wishing you had reliable wi-fi and Google Maps ready to save the day. Thankfully, you can order internet dongles in advance and pick them up from the airport or have them delivered to your hotel.
Learn some Japanese phrases
Japanese people appreciate the effort taken to learn some phrases, and in some places English isn't widely spoken, so here are some phrases that may come in handy:
Hello                                       Konichiwa
My name is _________         Watashi wa ______
Please                                    Onegai shimasu
Thank you                              Arigatou gozaimasu
Excuse me                             Sumimasen
Yes                                         Hai
No                                          Iie
Sorry                                      Gomen'nasai
Do you speak English?          Eigo o hanashimasu ka?
I don't understand                  Wakarimasen
Where is the subway?            Chikatetsu wa doko desu ka?
How much does that cost?     Kore wa ikura desu ka?
Where is the bathroom?         Ofuro wa doko desu ka?
Book Accommodation
Personally, I am a bit OTT when it comes to our travel planning, and create multiple spreadsheets, notes and detailed itineraries with accommodation, transport and activities long before we've arrived at our destination! So with that in mind, I like to know where we are staying before we arrive, so I can work out how to get there from the airport/train station. If you are at the other end of the traveller's spectrum though, we'd still recommend booking at least your first night's accommodation, so you aren't wandering around a foreign city, searching for a place to sleep.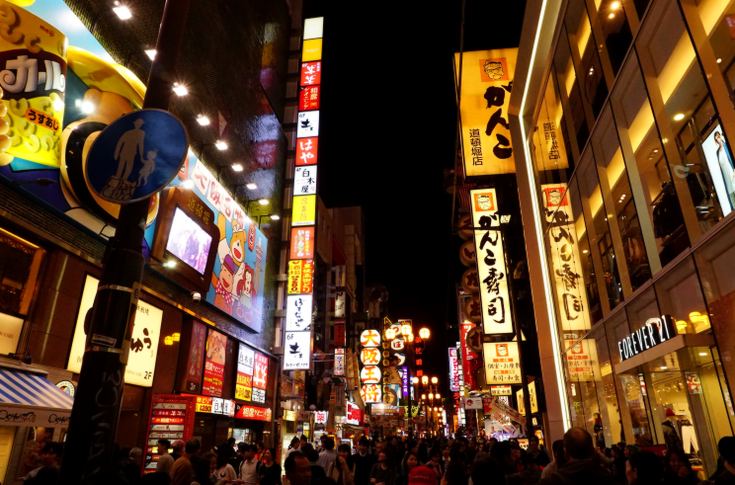 Have you been to Japan? Are there any other things you should do before the trip? Let us know below!
This post contains some affiliate links. Booking via these links won't cost you any extra, but will help me get closer to my dream career, so thank you in advance!