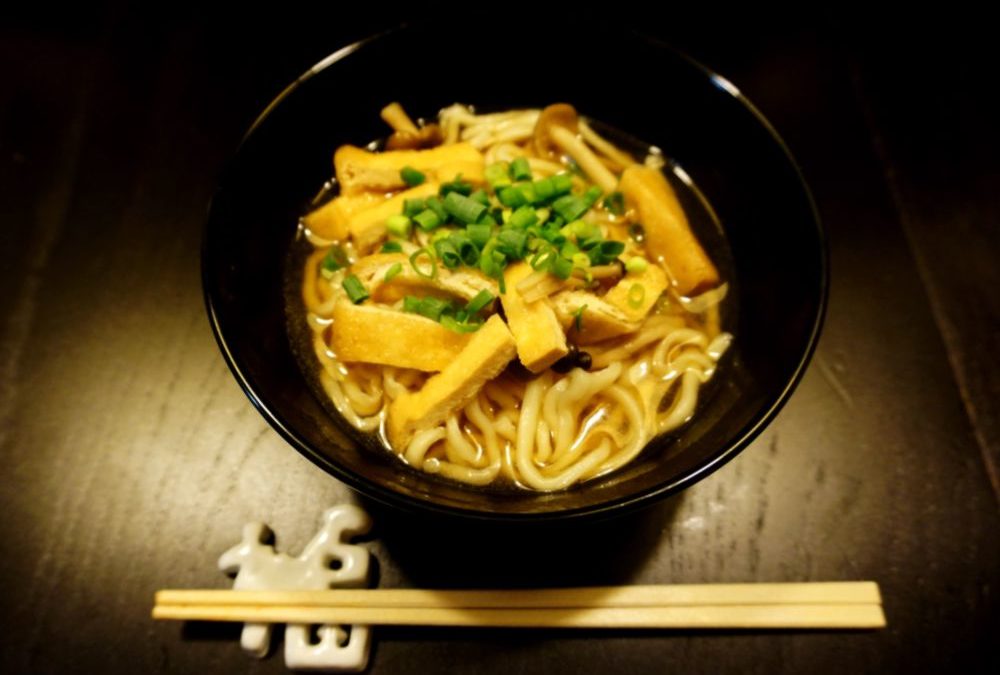 "Alright everyone, the timer has been set to 5 minutes. Time to start stomping!"
I never thought I'd be making udon noodles with our feet, and yet there we were, at Buddha Bellies Cooking School in Tokyo, on our first 5 minute round (of 3 rounds total) stomping away on our clear plastic bags filled with dough. It certainly is an unforgettable way to learn how to cook. Because sharing is caring, we're going to share with you what it's like to do a cooking class at Buddha Bellies and give you the most outstanding Udon noodle recipe as well!
Back to the noodles. As we did our best Flashdance moves on our little bags of dough, our patient teacher Ayuko gave us the history of Udon noodles. Unlike pasta, udon does not contain eggs, and grew in popularity from one of Japan's southern islands where they couldn't grow rice, so they grew wheat and created noodles instead.
Feeling pinspired? Hover and click on the images to save them to your Pinterest boards!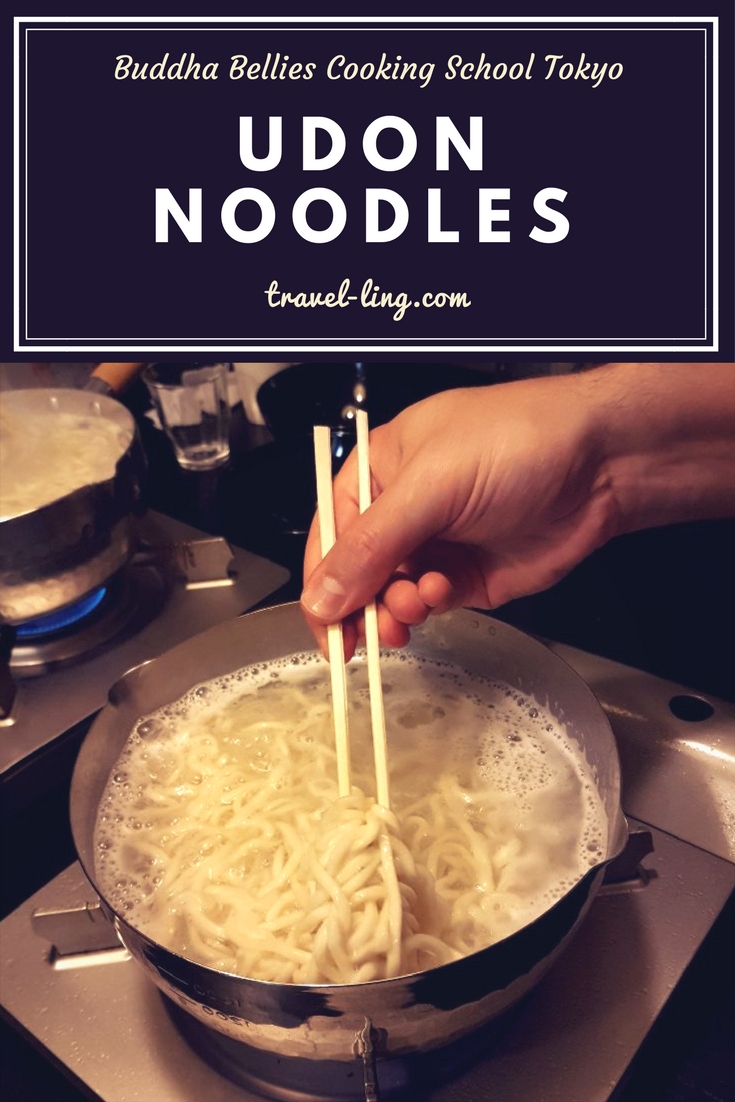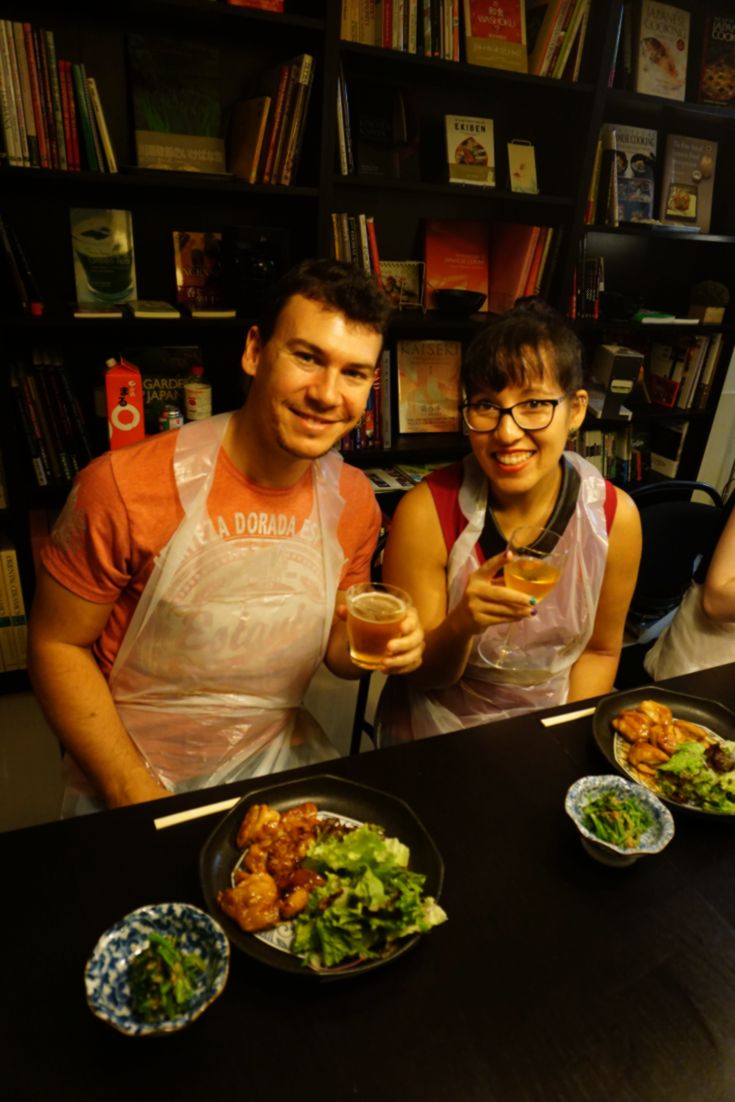 Buddha Bellies Cooking School
Ayuko is the founder and chef of Buddha Bellies Cooking School. As a teenager, she studied in the UK and speaks excellent English. She was a teacher, but her love for food and cooking took her on a different path, where she studied to become a professional sushi instructor, Sake sommelier and professional cook. But rather than open up a restaurant, her love of teaching and meeting people lead her to open Buddha Bellies Cooking School, and how lucky for us she did!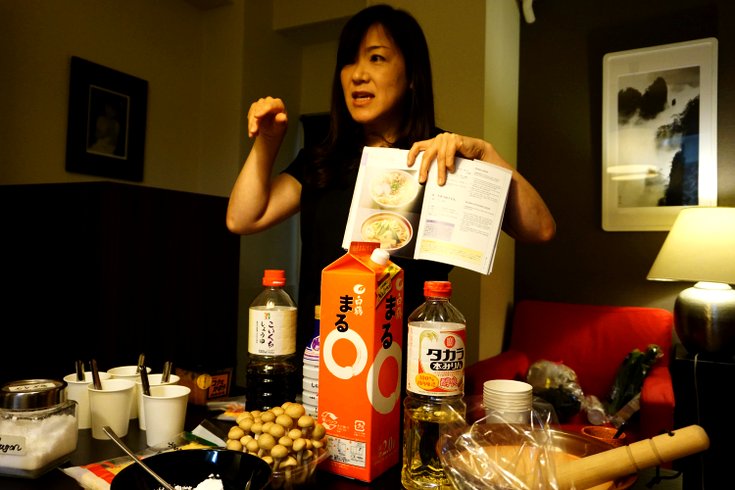 The Udon Workout
We started the day with what I now like to refer to as the Udon workout – 3 x 5 minutes of stomping on the spot, mixing and kneading the flour and water into a smooth malleable dough. Then came out the udon machine (similar to a pasta machine) to roll and cut the noodles. We also learnt a bit about simple Japanese ingredients that can transform a dish. The simple sesame paste we made was out of this world and a recipe we will be attempting to recreate when we get home!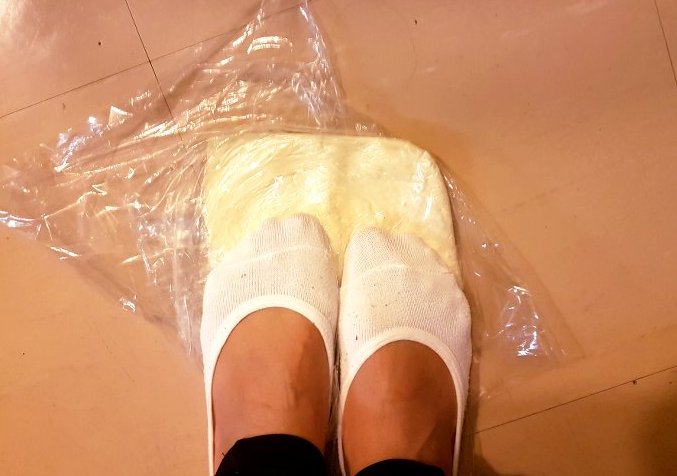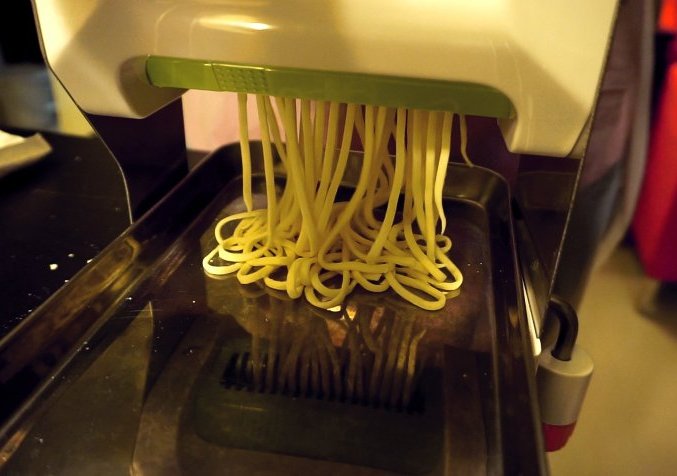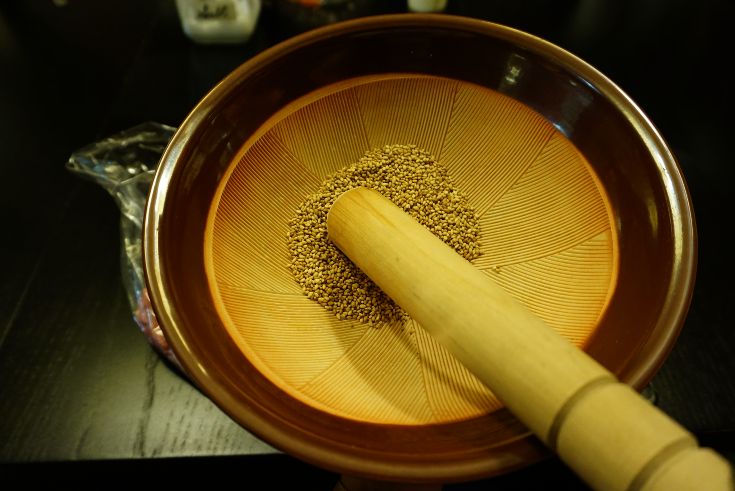 Teriyaki and Udon = The perfect combo
We then whipped together a teriyaki sauce and fried our chicken for what I can confidently say was the best chicken teriyaki we've ever tasted. And then came the udon. Boiled in water and then served in a warm, full-flavoured broth with mushrooms and tofu, these udon noodles were as good as any we had tried in a restaurant.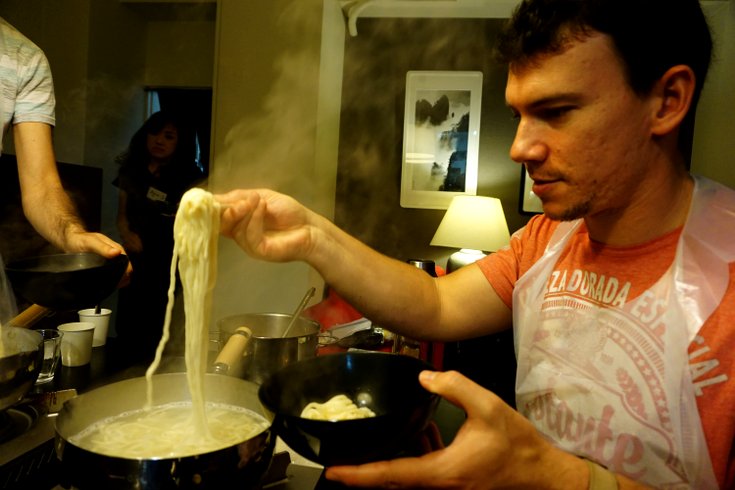 Ayuko is not only a fantastic teacher, with a wealth of knowledge of Japanese cuisine and flavours, she's a great host, who made sure we were comfortable throughout the day, topping up our water, answering any questions we had and even serving us beer and wine once our food was ready to be eaten!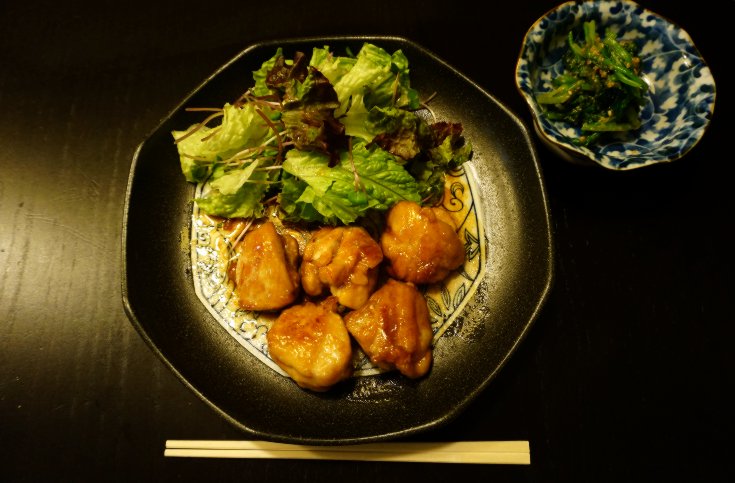 Do homemade udon noodles live up to the hype?
So does the udon live up to the hype? Yes. Yes it does. But don't take my word for it; you can try it yourself! Ayuko has kindly shared her recipe with all our readers, so have a go and let us know how it turned out! Remember, as Ayuko says, "Fresh is best!".
If you are in Tokyo and would love to learn how to make delicious Japanese food, book a class with Ayuko at Buddha Bellies Cooking School, Tokyo – your tastebuds will thank you!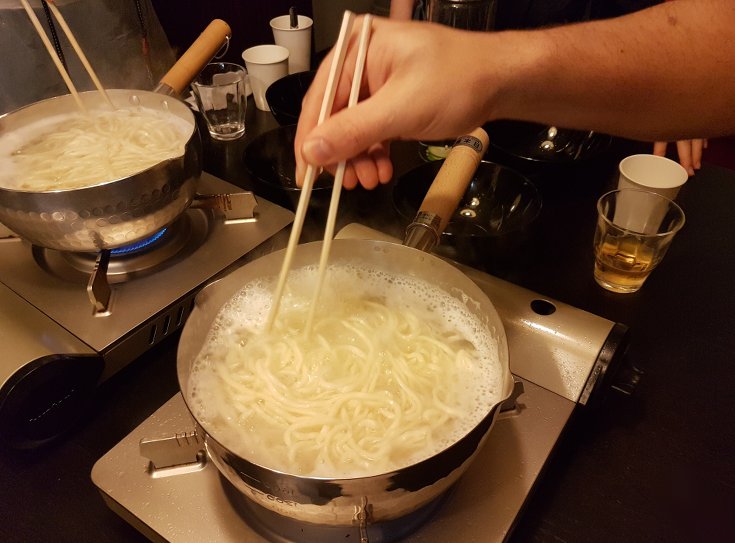 Ingredients (serves 1)
50g Plain Flour
50g bread flour (this has more gluten, and will provide the right texture)
50g water
1tsp salt
Clear cooking bags or freezer bags (you will need multiple, as they often split during the rounds)
Method
In a bowl, sift the flour well. In a separate bowl, stir the salt in the water until completely dissolved. Add water to flour and mix well.
When the flour begins to form pieces of dough, stop mixing. Gather all of the flour and form into a ball.
Place dough into a plastic bag. Put it in an additional bag to avoid mess. Make sure there are no air bubbles before doing your best flashdance routine (continuous stomping) on it for 5 minutes.
After first 5 minutes of stepping, gather the udon dough into a ball again. Repeat steps 2 – 3 two more times (15 minutes of stepping total). If bag has broken, replace bag.
Rest the udon dough ball in cling wrap for 30 minutes
Spread the udon dough with a pasta machine (or rolling pin). Make sure the dough is 5mm thick. Use a little flour, fold and cut the rolled out dough into noodles.
Put the udon in a pot of boiling water and boil for 2 minutes (or until it's at the texture you like).
Strain the udon and wash well with water to remove starch.
After more fun things to do in Tokyo? Why not Fight a Sumo? Read about that crazy experience on our blog!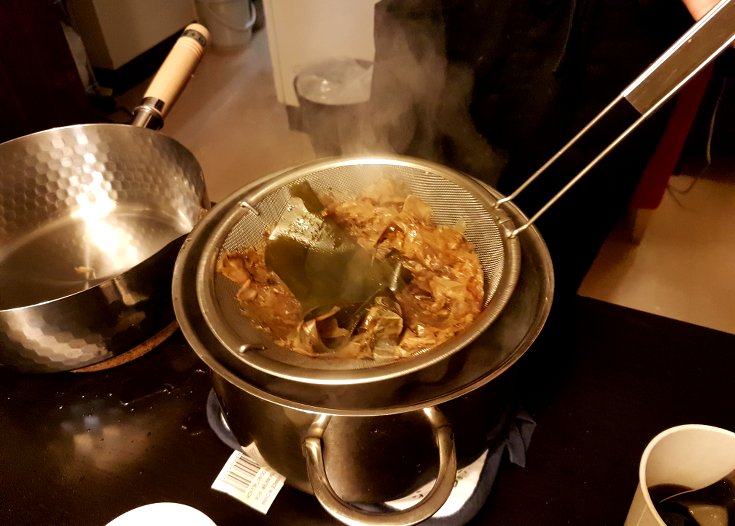 Ingredients
100ml Mirin
100ml Soy Sauce
400ml Water
4cm x 4cm Kombu (dried seaweed)
10g Katsuobushi (dried bonito flakes)
Method
Bring the mirin to boil in a pot
Add the soy sauce, water and kombu all together and bring to boil again.
Add katsuobushi and reduce heat to low. Cook for 2 – 3 minutes. Drain the sauce with a strainer.
NB: If you are using this as a dipping sauce, you can use as is, however if it's for hot soup udon, add more water to taste (to reduce saltiness)
Add mushrooms, tofu and whatever else you like to the mix.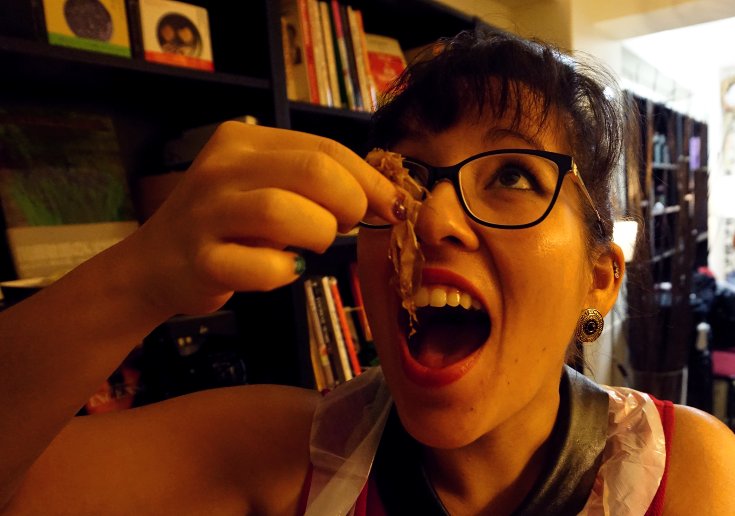 And it's that simple! If you love udon as much as we do, have a go and let us know how yours turned out!
A huge thanks to Ayuko for having us as guests at Buddha Bellies Cooking School. As always, our opinions, terrible jokes and cooking results are our own.